Duo Light y Duo Dark
Depilación láser con multi-longitud de onda simultánea
Cómo funciona
Triton ofrece una combinación única de tres longitudes de onda diferentes, con salidas múltiples para maximizar la capacidad de los clínicos para tratar cualquier paciente en una forma personalizable. En esa manera, se puede asegurar que Triton es la plataforma imprescindible para cualquier clínica. Triton optimiza potencia, velocidad y resultados, convirtiéndolo en el sistema definitivo para la depilación.
---
Tecnología Duo Light y Duo Dark
---
| Triton Duo Light: | Triton Duo Dark: |
| --- | --- |
| Más efectivo en vello claro y fino | Altamente efectivo y seguro para pieles oscuras hasta tipo VI |
| Más efectivo en pieles tipo I y III | Pico de alta potencia preservando el impacto epidérmico durante el tratamiento. |
| Puede tratar cualquier tipo de piel, color y grosor de pelo | Trata pieles bronceadas. |
Beneficios para los pacientes
Cubre las necesidades y preocupaciones sobre los tratamientos de depilación láser de todos los pacientes
Piel y vello claro
Piel y vello oscuro, incluyendo tipo IV
Pelo fino
Pelo residual
20-30 minutos de tratamiento
Seguro, eficaz y altamente efectivo.
Especificaciones
Triton Duo Light
Triton Duo Dark
Longitudes de Onda:
755 nm and 810 nm
Alexandrite and Diode
810 nm and 1064 nm
Diode and Nd:YAG
Salida:
Simultaneous Blend
Duración de pulso:
Short and Long
Ratio de repetición:
Single, 1 pulse per second, 2 pulses per second, Glide up to 5 pulses per second
Tamaño de spot:
12 mm X 26 mm (3 cm2)
Enfriamiento:
Normal cooling for superficial hair
Strong cooling at maximal energy and any environmental conditions
Fluencia:
5-40 J/cm2
Impacto:
Compact and light-weight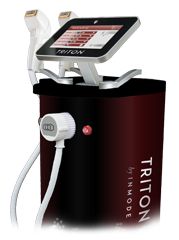 Primera plataforma láser de alta potencia para tratamientos de depilación láser.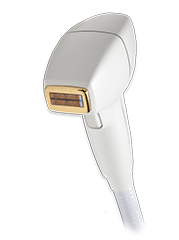 Combinación de láser de máxima potencia y triple longitud de onda para tratamientos de depilación láser en todo tipo de pieles.